Owen Thomas
macht sich Gedanken über Twitter und zitiert Jean Baudrillard, den vor 2 Jahren verstorbenen französischen Philosophen der Simulation:
"That's the grand irony of Twitter: Even the real people on the service are fake. They are their own simulacra. No one actually lives their life 140 characters at a time. What we do is turn ourselves into works of fiction. Who's real? Who's not? Who cares"
In Baudrillards Buch
The Vital Illusion
finden sich ein paar sachdienliche Hinweise zur Lage der
Online-Nation:
Ecstasy of the social: the masses. More social than the social.

Ecstasy of information: simulation. Truer than true.

Ecstasy of time: real time, instantaneity. More present than the present.

Ecstasy of the real: the hyperreal. More real than the real.

Ecstasy of sex: porn. More sexual than sex ...

Thus, freedom has been obliterated, liquidated by liberation; truth has been supplanted by
verification; the community has been liquidated and absorbed by communication ...
Everywhere we see a paradoxical logic: the idea is destroyed by its own realization, by its
own excess. And in this way history itself comes to an end, finds itself obliterated by the
instantaneity and omnipresence of the event.
Ecstasy of identity: the energy. More personal than the personal.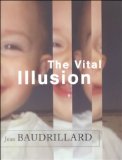 Der letzte Twitter-Eintrag kommt nicht von Baudrillard, sondern von
Nicholas Carr
- als Reaktion auf
Steve Gillmor
, der im Zusammenhang mit meinem Erdbeben folgendes berichtete:
This morning I felt a jolt and reached for my iPhone to check in with my wife on the highway. She immediately asked whether it was on Twitter ...

Nicholas Carr
merkt dazu folgendes an
:
Now at first, I have to confess, this struck me as kind of odd. Your spouse calls you to tell you about an earthquake at your house, a potentially catastrophic natural event, and the first thing you say is, "Was it on Twitter?" But then I realized I wasn't thinking of it from a fully realtime perspective. (I still find myself drifting back to real time now and then.) As soon as I recalibrated my mindset, everything came into focus: In realtime, nothing ever happens firsthand. Reality becomes real only after it has been mediated, encapsulated into an electronic message and shot through a network into a virtual community. The unstreamed life is no life at all.
coyote05 - 1. Apr, 16:32